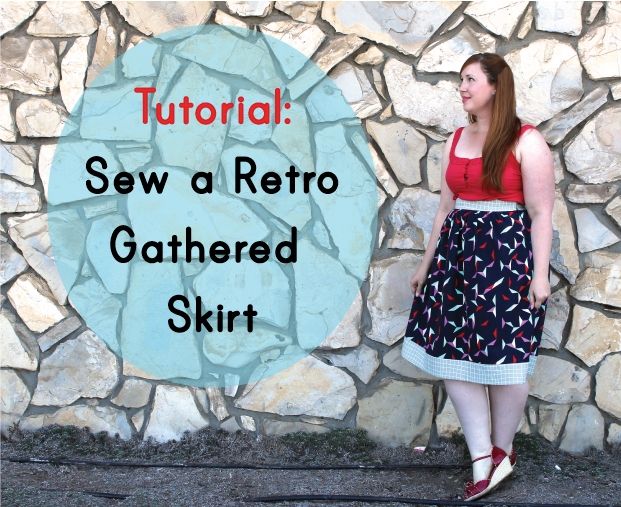 Hello! Melissa from Scavenger Hunt here! Today I'm going to show you how to make yourself a cute, retro-style gathered skirt with a contrasting waistband and hem. This is an easy project that you could most likely sew up in just a few hours, and the best part is that you'll make it up just for you, with your own measurements so it will fit you perfectly!
Materials:
• 1 and 1/2 yards of Cotton and Steel Tangrams Indigo by Rashida Coleman-Hale*
• 2/3 yard of Cotton and Steel On the Grid in Mint by Rashida Coleman-Hale*
• 1/4 yard of woven fusible interfacing
• 7 inch zipper
• matching thread
• a skirt/pant hook and eye
*Note: you may need more fabric if you are making a longer skirt.
Here's how to calculate the size of your pieces:
Note:  I made things a little easier to calculate by using 1/2 inch seam allowances, rather than the standard 5/8 inch, so remember that as you are cutting and sewing.
First, measure your waist and write it down. Then, decide how long you want your skirt to be and write that down (the easiest way is to measure a skirt you already have and like the length of). Decide how wide you would like your bottom contrast band to be (mine is 3 inches wide), and how wide you would like your waistband to be (mine is 2 inches wide). Got all that? Now you're ready to do some simple calculations!
Main skirt
:
You need
2
main skirt pieces. Here's how to calculate them:width = (your waist measurement) + (1 inch for seam allowances)
length = (desired skirt length) – (width of band) + (1 inch for seam allowances)
For my skirt, my waist measurement was 33 inches + 1 inch seam allowance = 34 inches wide.
I wanted my skirt to be 26 inches long, total, with a 3 inch wide contrast band at the bottom.
So my main skirt piece was 26 inches – 3 inches + 1 inch= 24 inches long.
So, my main skirt pieces needed to be 34 inches wide by 24 inches long.
Contrast Band:
You will need 2 contrast band pieces. Here's how to calculate them:
length: (same width as skirt pieces)
width: (desired width x 2) + (1 inch for seam allowances)
My contrast pieces were 34 inches long,  just like the width of my skirt, and since I wanted them to be 3 inches wide, finished,  they were (3 x 2) + 1 inch = 7 inches wide
Waistband:
You need 1 waistband piece. Here's how to calculate it:
length = (your waist measurement) + (1 inch of ease) + (1 inch for overlap) + (1 inch for seam allowances)
width = (desired width of waistband x 2) + (1 inch for seam allowances)
Mine was: 33 inches + 1 inch + 1 inch + inch = 36 inches
I wanted my waistband to be 2 inches wide, so (2 x 2) + 1 = 5 inches
So, my waistband piece needed to be 36 inches long and 5 inches wide.
Got all of your pieces calculated? Let's start sewing this baby up!
 1. Cut out your fabrics in the lengths and widths that you calculated for your waist size and desired length. I find the easiest way is to tear them along the grain line. This also ensures that your fabric is on grain. Cut a piece of your fusible interfacing the same size as your waistband piece and apply to the wrong side of your waistband piece.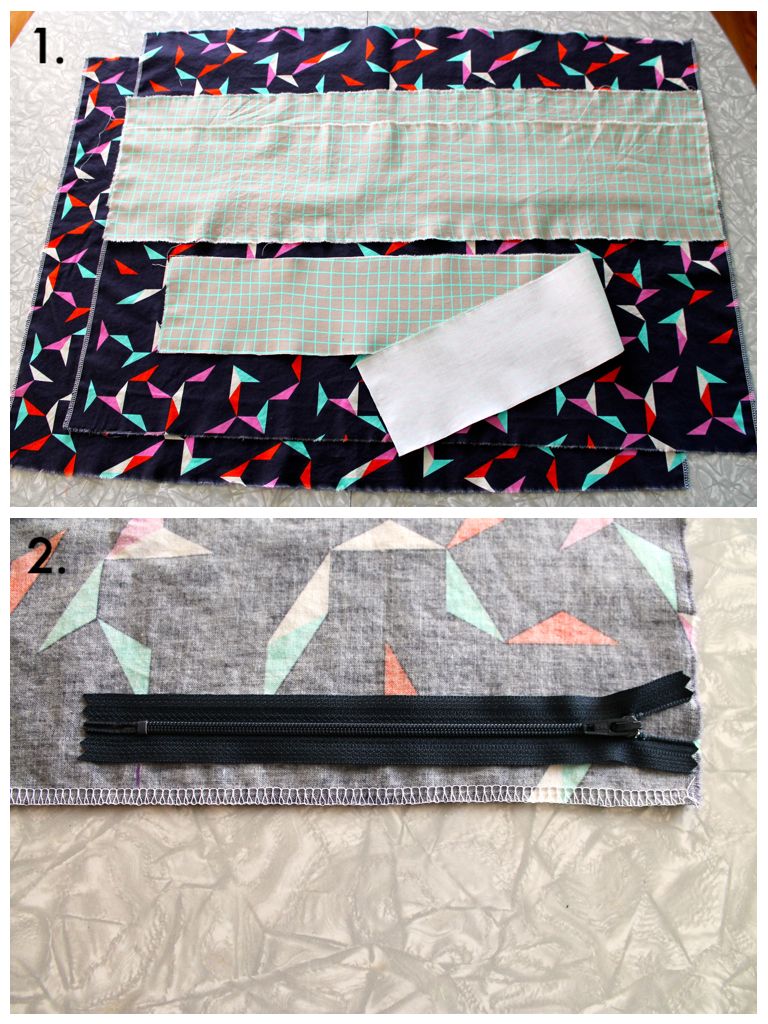 2. Finish the side edges of your main skirt pieces. I serged mine but you could also use pinking shears, a zig-zag stitch, or even bias tape. Then, lay your zipper at the top edge and make a mark where the bottom stopper ends, as shown. Sew your two main skirt pieces together at the sides, leaving one side open above the mark you made. This is where your zipper will go.
3. Sew your two bottom band pieces together at the sides, then press the seams open. Fold your bottom band in half, wrong sides together, as shown.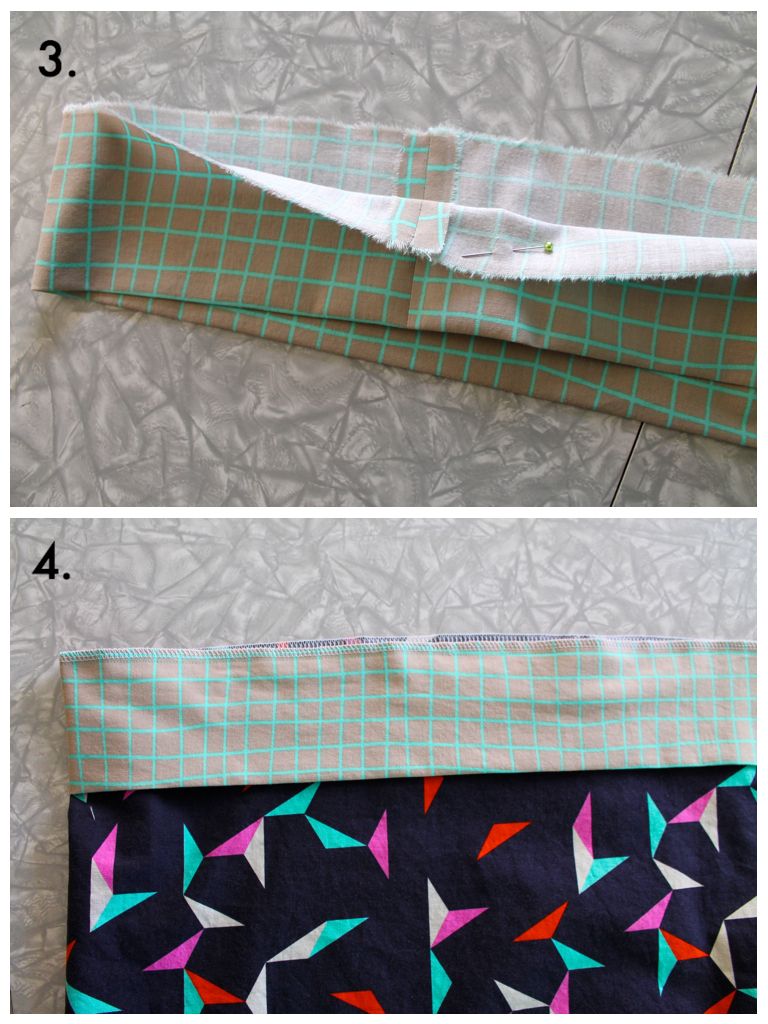 4. Now, sew your bottom band to the right side of your skirt along the bottom edge, matching side seams. Finish the seam with a serger, pinking shears, or zig-zag stitch. Press bottom band down, with the seam allowance up toward the main skirt.
 5. Machine baste top zipper opening closed, press open, and then remove basting. This will gave you a crisp, even edge to sew your zipper to.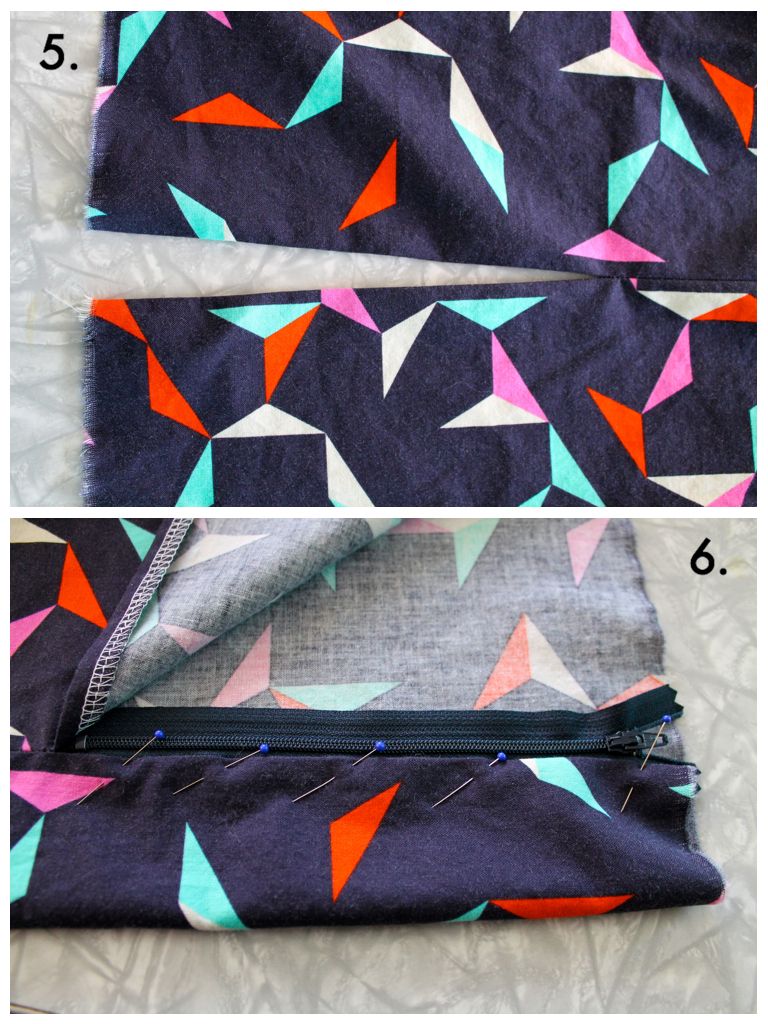 6. Pin your zipper in along right edge as shown above.
 7. Carefully pin your zipper on the other side, centering it on the left side. Use a fabric marker or chalk to draw yourself a stitching line around your zipper.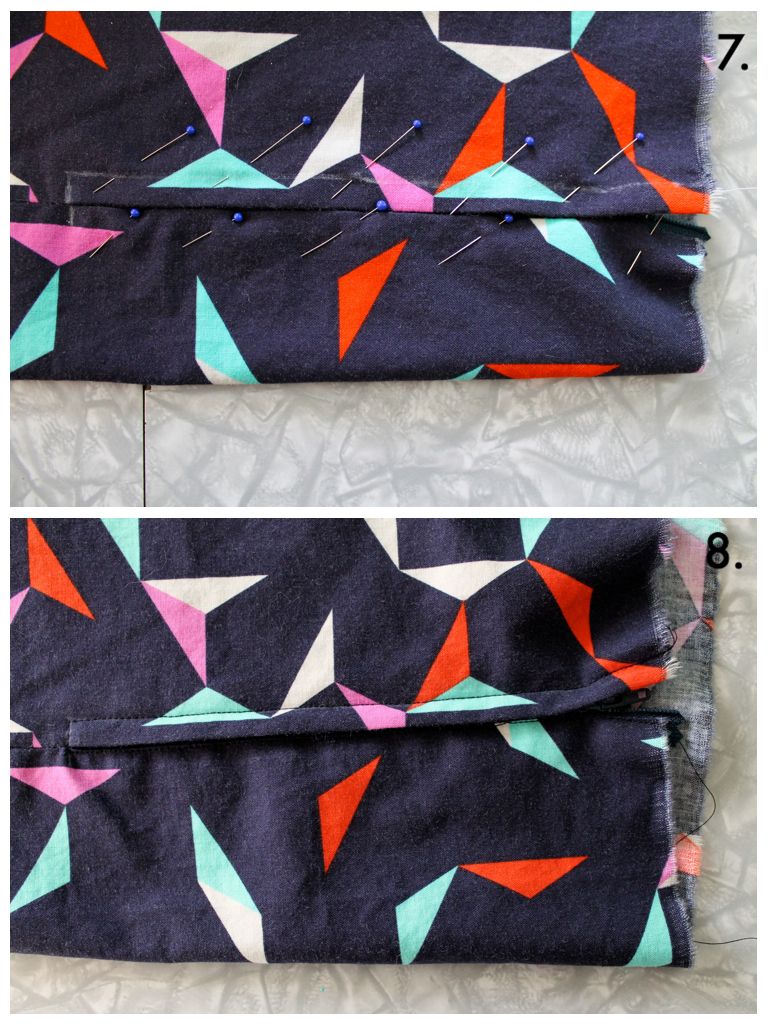 8. Use a zipper foot to sew in your zipper, sewing closely along right edge, pivoting at the bottom below the stopper, and then sewing up the left side on the line you drew. Go slowly and move the zipper pull out of your way when you need too.
9. Mark the halfway points between the side seams on each skirt section by folding in half and then notching or marking. This will help you gather your skirt evenly.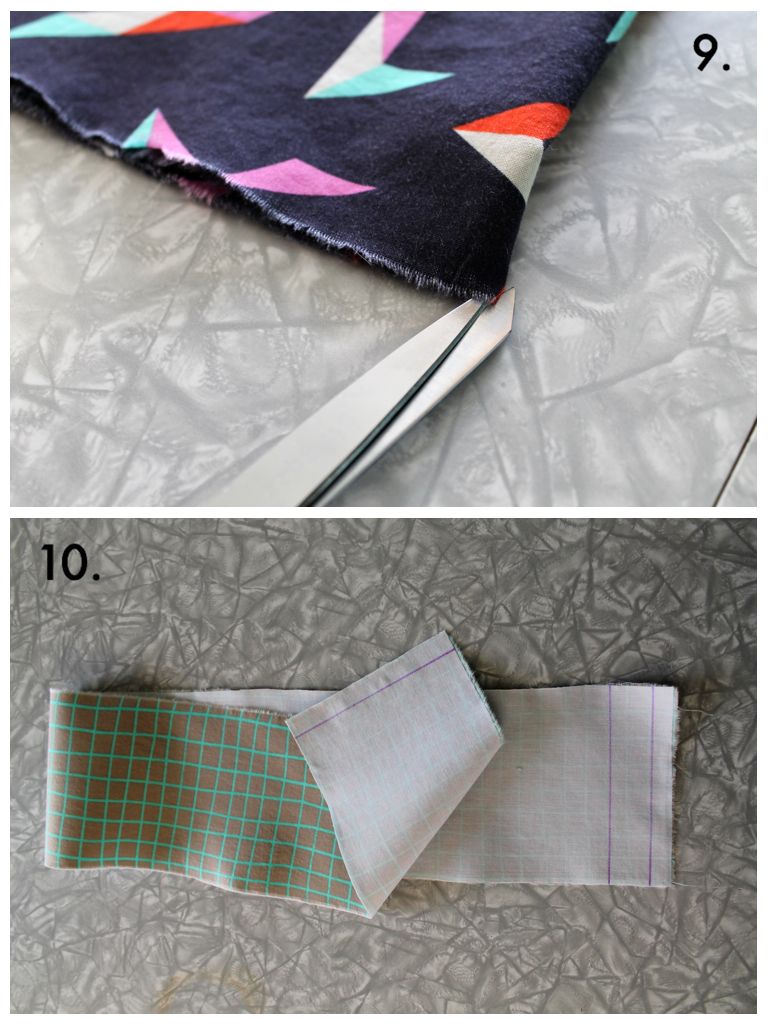 10. On each side of your waistband, draw a line 1/2 inch from the edge. Now, on one side, draw another line 1 inch in from your first line.
12. Sew three rows of basting stitches along the top edge of your skirt. The center one should be 1/2 inch from the top and the other two should be about 1/8 of and inch from that one on both sides.
13. Right sides together, line up the sides of your skirt piece with the lines you drew on the waistband. The left-hand side of your skirt (with the zipper cover) should be 1/2 an inch from the waistband edge and the other, right-hand side should be 1 1/2 inches from the edge.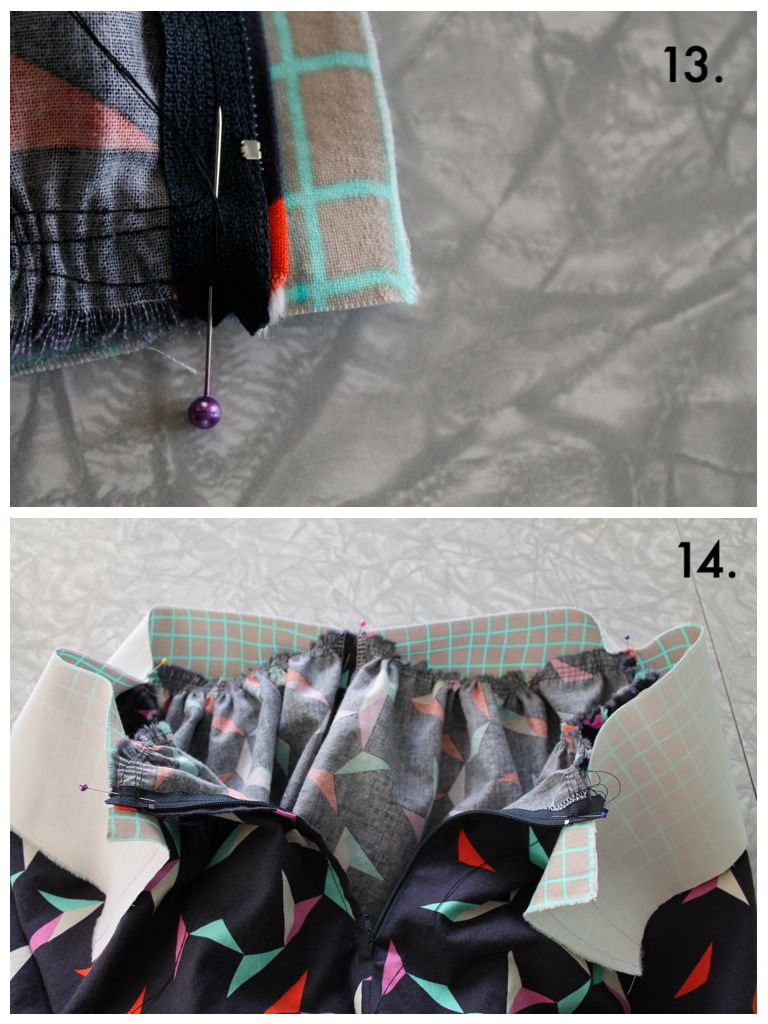 14. Match up your marks and then pull your basting threads to gather the fabric until the skirt is the same size as the waistband.15. Try to distribute the gathers as evenly as you can in each section and pin them in place with plenty of pins.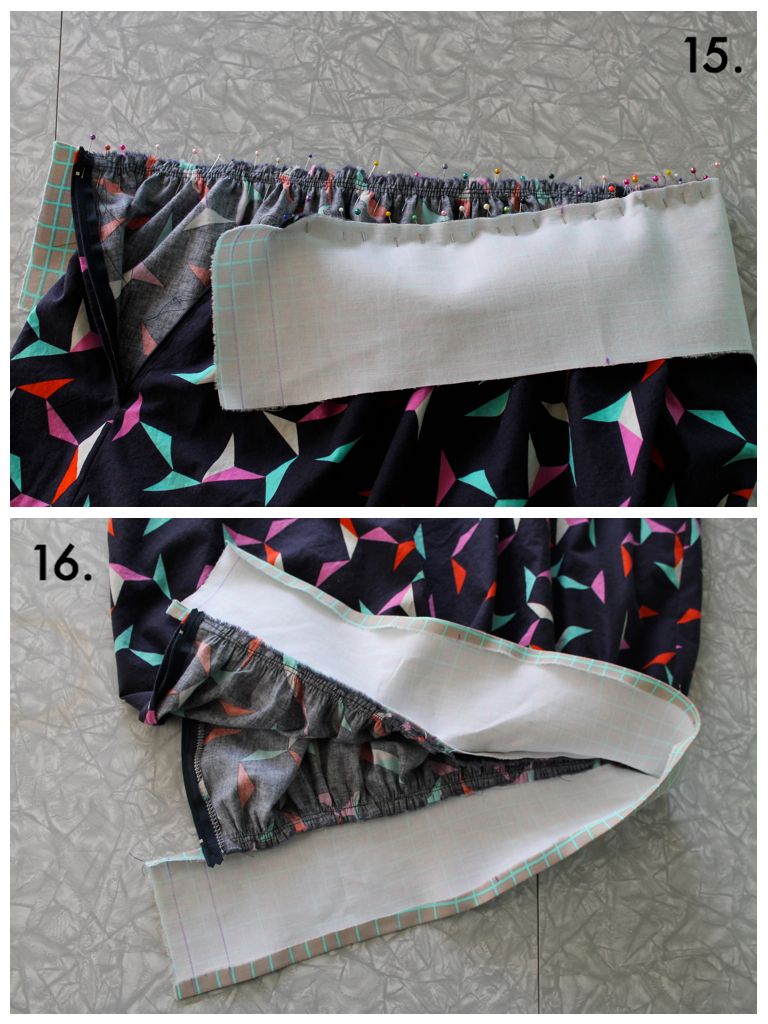 16. Stitch the top edge of skirt to the waistband with a 1/2 inch seam allowance. Now you can pull out the basting stitches. Press your seam with the seam allowance up toward the waistband. Press in at 1/2 inch on the other edge of the waistband.
17. Fold waistband down on itself, right sides together, matching raw edges. Stitch along that 1/2 inch line. Clip top corner if necessary.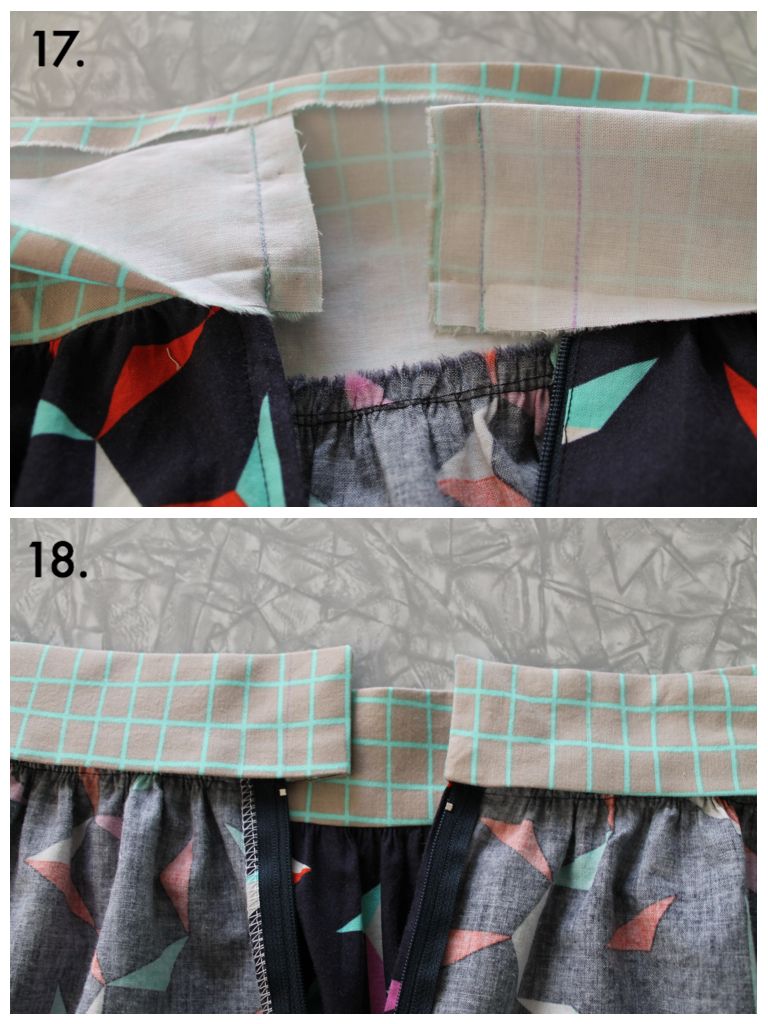 18. Turn waistband right-sides out and press in half along entire length, matching inside folded edge with stitching line. 19. Hand-stitch the inside of waistband down along stitching line, enclosing the raw gathered edge.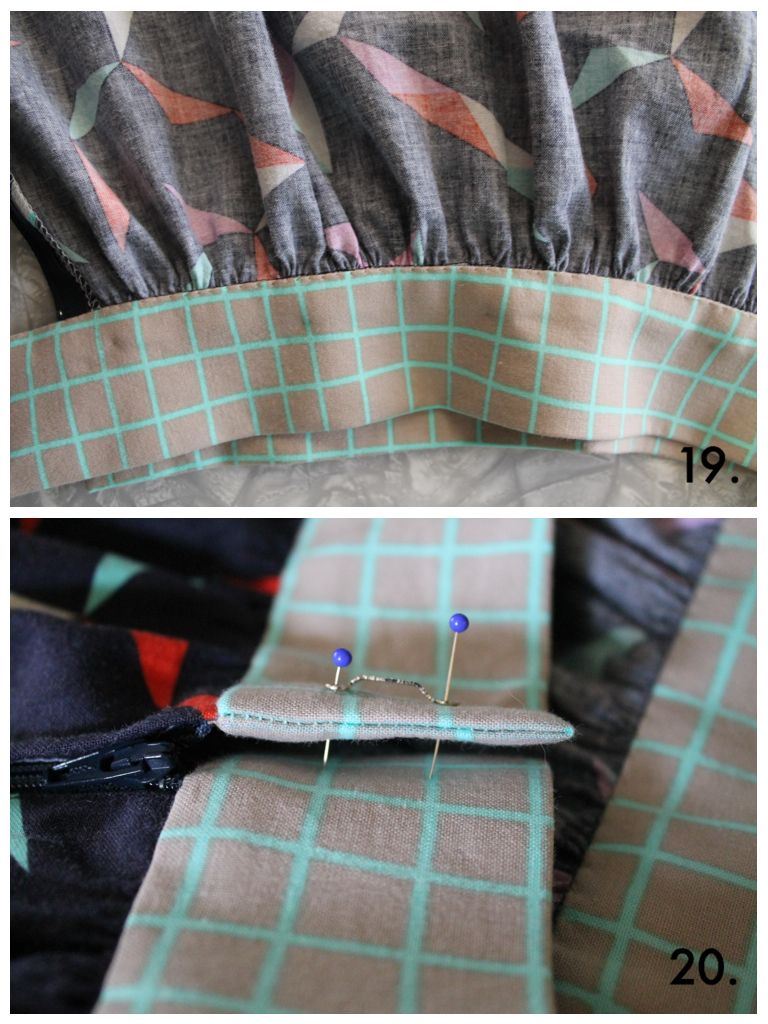 20. Line up your hook and bar by positioning the bar on the outside of waistband above the zipper. You can use one and center it, or you can even use two for extra sturdiness. I just used one. Poke pins through the holes on each side of the bar, all the way through both sides of the waistband. 21. Make marks where the pins went through. Now you have perfectly aligned marks on each side of the waistband that show you where to sew your hook and bar.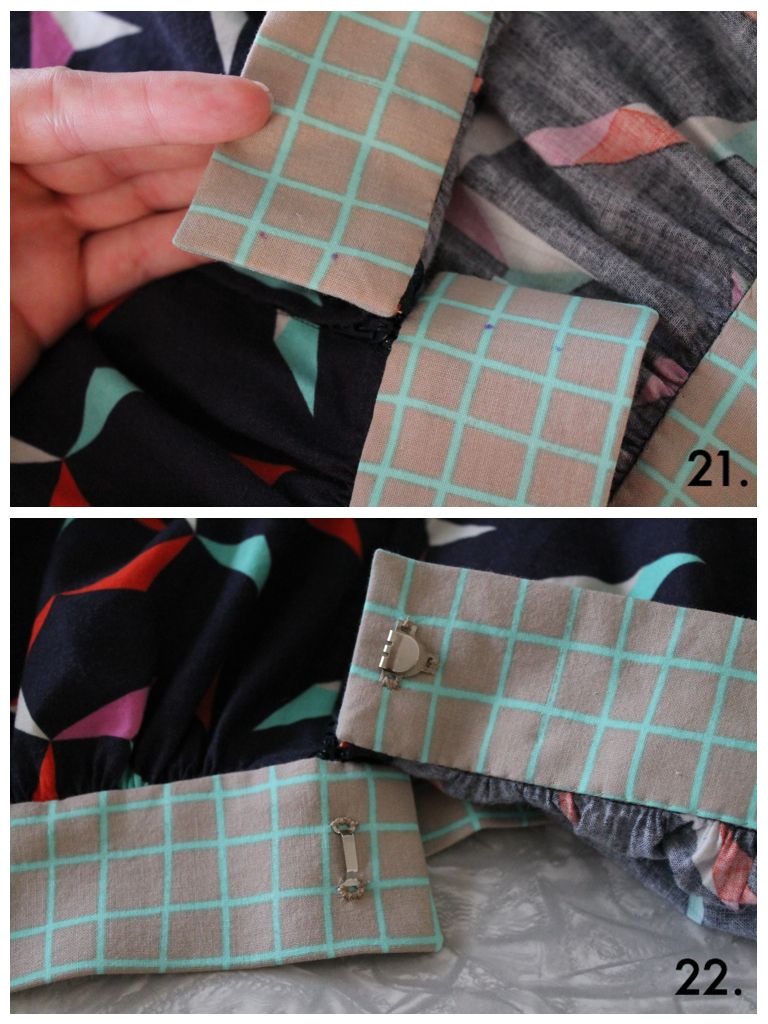 22. Sew the hook to the top (shorter) edge and the bar to the bottom (longer) edge. See why you have one side longer?
You're done!!! Enjoy your cute gathered skirt!
I hope you all enjoyed this tutorial. Feel free to ask me if you have any questions…-Melissa